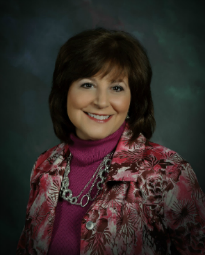 Marina (Suraci) Sinopoli
Owner of Designs on Main Hair and Tanning Salon
in Mount Joy since 2003.
I began my career in hairstyling at Lancaster's Empire Beauty School. I pursued additional training in California, learning the chemistry involved in permanent waves and other chemical services, as well as new cutting and styling techniques. While working California I became interested in skin care and make-up which also included training in waxing for hair removal for facial and body areas. I earned certification for training Adrian Arpel Cosmetics and skin care. After four years in California I returned to the Lancaster area. I continually attend educational classes to stay current with the ever changing styles and products.
I love this career. It compliments my interests in fashion, hair and make-up and it gives me an opportunity to share those interests with my clients.
Today there is a lot of competition in the work force and it is so important to make a good first impression. As a stylist I enjoy being able to help someone make a good first impression , especially one that leads to a new career or life change.


Traci Derr
In 1981 I started in the beauty industry and enjoy all aspects of this business. I specialize in perms and color and have attended many classes to give my clients a great choice of creative options as well as new chemical texturizing techniques for curling or straightening their hair.
I also enjoy hair cutting and styling from flat irons to roller sets. Yes, we even tease hair!
My goal is to provide my clients the best customer service that I can, so that my clients not only look good, but feel great too! I love this business!


Cathie Kelley Musser
I love what I do very much. In 1982 I graduated from the Lancaster School of Cosmetology with a teaching certification. Throughout my career it has been important for me to continue my education. I received training and certification in the Davines Coloring System which we use here at Designs On Main this enables me to provide excellent hair coloring and highlighting services to my clients. Additional training in skin care, facials, product knowledge designer haircutting and formal styling can insure that you will be receiving the best possible service.
I have been at Designs on Main for twelve years and my goal in life is to always continue to be there to help others and my family.



Michelle Houseal
I believe I am very fortunate in being a hairstylist because I have been "Doing What I Love" for almost 30 years. I graduated from Empire Beauty School in April of 1988. I started right away working at Holiday Hair. Then I later opened my own salon called Legends Hair Design in Maytown that I enjoyed for thirteen and a half years.
Now I have been working with a great bunch of girls here at Designs on Main for ten years. Throughout the years I have continually attended educational classes and hair shows. I don't specialize in one specific area, but I do an awesome spiral perm on long hair and enjoy doing perms very much.
Color, men's barbering and haircuts are also a great part of my business. I enjoy it all!

Evgeniia Shiboleva

I began my career in Russia, where I grew up, and received my education. I began working and acquiring experience as well as continuing my education through taking many classes abroad.
Upon settling in Mount Joy I was excited to restart my hair styling career by enrolling at Empire Beauty School and graduating.
Updo's, formal hair styling and cosmetology are my passion and I firmly believe in "Practice Makes Perfect". I regularly attend hair styling, color and cut master classes as well as keep informed of new styles and products in the industry.
It is very important and enjoyable for me to continuously enhance my skills. I am very excited to apply and share my experience with new customers.
If you are looking to change anything about your appearance and styling I will be happy to serve!


Michelle (Micki) Zimmerman


I graduated from cosmetology at Lancaster Career and Technology in 1990.
You may have seen me at a few other salons around town, as I have spent 12 years at the Cutting Edge and the last 10 years at Xquisite Nail Design. I use Logics color and DNA by Matrix.

I enjoy getting to know my clients and doing my best to make them look and feel their best. I enjoy cutting and styling, as well as coloring and perming and formal styling. I also provide natural and gel polish manicures and pedicures.

I have attended many classes and hair shows over the years. i like to have fun while I work and have been known to tell clients "trust me...I'm a trained professional".
Designs On Main
208 East Main Street
Mount Joy, PA 17552
717-653-7103
info@designsonmainmtjoy.com

Visa / Mastercard / Discover / American Express Accepted

Photo Credits: deborah swanger photography Make up Credits: Christina Fulton